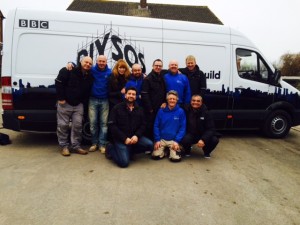 It's not every day you get the chance to make a real difference to the lives of incredibly deserving people and their families.
The opportunity brings its own rewards because the chance to see the smiles on the faces of those you've helped and the job satisfaction you get from doing it is tremendous.
Our team at Shephard Building had this opportunity when we donated a helping hand to cancer survivors Jenny and Mark Corns and their inspirational family.
The Corns are a local Loughborough family who have suffered more than their fair share of tragedy over time.
Following rounds of fertility treatment and the devastation of giving birth to stillborn twins, they were blessed with their daughter Abigail, 3.  With one more egg on ice, they decided to try to give Abigail a sibling and discovered to their joy that Jenny was pregnant with identical twins.
But, after a troubled pregnancy, Jenny went in to labour suddenly at home, with her husband Mark having to deliver the twins. Both were born extremely unwell – Katie was not breathing and Emelia was breech.  The whole family were taken to hospital and over the course of the evening the Corns learned that their daughters also had  Achondraplasia (a form of dwarfism) along with respiratory illnesses and bowing legs, which was only going to cause more problems later in life.
In addition to this tragic turn of events, late in 2013, Mark was diagnosed with aggressive bowel and liver cancer.  Having had chemotherapy and his bowel and rectum removed he survived and the cancer is now thankfully in remission, but the story doesn't end there.
Shepard Building Help the Corns Family through DIY SOS
The Corns family were living in a house that was way too small for the twins, whose needs were only going to grow and get more complex as time moved on – but the family couldn't afford to move.
Thankfully help was at hand when the BBC heard of their plight and offered support through their flagship programme 'DIY SOS: The Big Build'.  Shepard Building supplied the brickwork footings and face brickwork for a two storey wraparound extension on a timber frame as part of the project to provide a life changing transformation of the Corns' family home in Loughborough.
Our team of builders were on site for a total of six days and the official project lasted nine days. Whilst on site they also helped with the roofing and some joinery work too.
Our involvement in the DIY SOS project
The two storey wrap around extension enabled the Corns to extend their bedroom and living space and it changed their lives.  A much needed downstairs bathroom was also provided to make it much easier for Jenny and Mark to wash the twins, and in time allow them as children and young adults to attend to their own hygiene.  In addition they now have space for their physiotherapy, which is essential to prevent bowing of the legs (a common effect of Achondraplasia), as well as space to store their medical equipment and simply play like normal children.
It was an absolute privilege for our whole team at Shepard Building to be able to donate help to such a deserving and inspirational family. These are people who have suffered through a series of events which, even occurring individually, would knock most people for six. The feeling of being able to be part of something so truly special was an absolute honour and we hope that the support we have donated will go a long way to lifting the burden of worry from this Loughborough family and change their lives for the better, for a very long time.
Really Proud of Team and Other Companies
 Having seen the final result, we were tremendously proud of our team members who worked happily and solidly for the six days we were on site. Credit must also go to the other companies involved in the DIY SOS: Big Build Project in Loughborough. The atmosphere was fizzing with the good feelings that come with knowing you're doing something to help a family in so much need – and we couldn't have wished for a better group of people to work alongside. We were so very pleased to be a part of this inspirational and massively worthy project and would like to wish the lovely Corns family good health and happiness in their new home for many many years to come.